Summer is here, but have no fear, we've got some great ideas to help you beat boredom.  We're hosting a social media and blog series called Camp Campanelli, which highlights some fun activities to do with your family.  We'll be featuring DIYs, fun toys, obstacles courses and much more.
On CHCH Morning Live, I kicked things off with the following items:
(1) Portable Stainless Steel Cooler, $184.99 from Wayfair.ca
(2) Inflatable Pool Noodles, by Big Mouth, from Stortz.ca
We love inflatable pool noodles because they're easier to travel with and store.  They don't take up much room in a beach bag and they're less likely to develop mold *than the typical foam ones.  We showcased the Dill Pickle and the Banana on CHCH.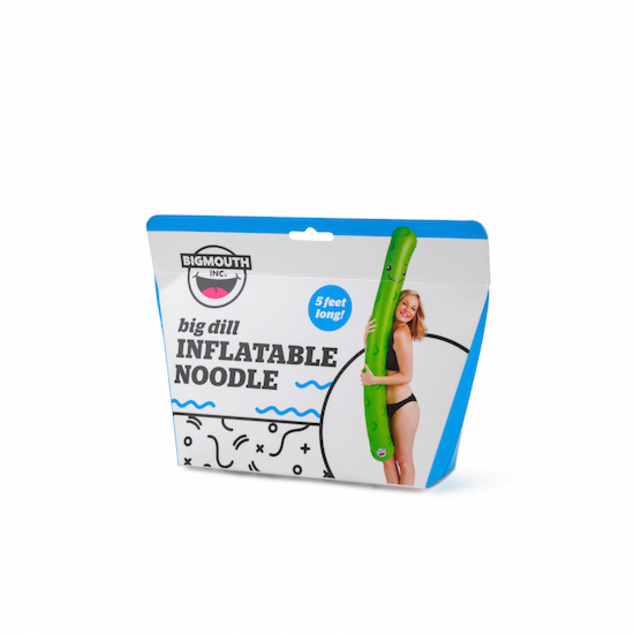 (3) Playful Pool Floats, by Big Mouth, from Stortz.ca
There's nothing more bright and colourful than pool floats.  They have that instant "party" vibe and get everyone, no matter the age, excited about jumping in the water.  Over the years, we've seen some fun trends (like the floating Flaminbo and unicorn).  We featured some other fun options: angel wings, baby dinosaur and a love donut.
(4) Inflatable Jet Ski, Amazon.ca, $12.95
This wave-rider ride on inflatable is such a fun addition to your pool floats.  You can't beat the price.  It's also a fun option for obstacle courses and little ones (aged 3+) can feel like a big kid.
(5) Inflatable Cup Holders, Amazon.ca 14 pieces for $21.95
These are the cutest little inflatables I've ever seen.  They blow up to be just big enough to hold a drink, but we prefer to use them to hold snacks and craft supplies for the summer.  They inject that instant bit off "happy" into your summer fun and the price is great.
(6) Giant Inflatable Water Wheel, Amazon.ca, $49.95
This inflatable water wheel is another great option for toddlers.  It's great for obstacle courses and getting them into the pool if they're reluctant to get wet.
It sits on top of the water and is very sturdy, but you need a foot pump or an automatic blower to pump it up.
(7) Dual Racer Slip and Slide with Body Boards by Banzai, Amazon.ca $79.95
These totally remind me of my childhood!  We didn't have a pool so I always asked for the latest and greatest version for Christmas.  Now, you can challenge friends and family with the dual racing slip and slide, which is awesome for a neighbourhood gathering.  It comes with body boards too so it's great even for the bumpy lawns (like mine).
(8) Water Beads Sensory Toys, Amazon.ca $16.99
We've received so many messages about the beads since sharing them on social media.  They come in a small container and the actual beads start out the size of candy nerds.  You add water and leave them to soak for 6-24 hours.  They expand in the water and turn into a really fun activity.  Note: they don't actually fill with the water.  But they turn into a harder ball that can break apart.
(9) Play-Doh & Mr Potato Head from Hasbro
These are classic toys done slightly differently and sometimes all it takes is a fresh look at an older toy to make it fun again.   Mr Potato Head can be turned on his side (sets come out this Fall) turning him into a train, a plane and other fun vehicles.  You can mix them with sets you already have at home.
With Play-Doh, the travel starter set is ideal for summer fun for those trips to Grandma's, long car rides or even restaurants.  Kids can open it up, play with the set on the top lid, and put it all away for easy storage.
(10) Nerf Blasters from Hasbro
The Elite Hyperfire Blaster is an automatic round sending out fun foam bullets toward any target. You don't need to reload for up to 25 shots.  This is great for target practice or yard games.
(11) Chow Crown, Hasbro
This is being touted the must-have game of the year for families and it's coming out in the Fall!  The crown plays music and you eat as many of the snacks as you can before it stops.  You can fill the forks with a mixture of yucky foods and fun foods and give yourself a challenge!