In our family, my two toddlers are the only young children.  Over the years we've modified Christmas to accommodate changing wish lists and budgets.  Now, we draw one adult name and then do stockings for everyone (that way, if you see something that you know someone else will love, you can pick it up to put in the stocking).
If you're looking for some unique adult stocking gift ideas, here are a few favourites for this year:
(1) Chudleigh's Apple Blossoms Gift Box
If you're in the Greater Toronto Area (GTA) Chudleigh's will deliver a gorgeous, wooden gift box loaded with 10 individually packed apple blossoms.  Simply heat them up (15-20 min) so everyone can enjoy them while opening gifts or with a morning coffee.  It's a perfect "stocking" type idea if you'll be waking up with a house full of grown children and / or adults.  It's a 50th Anniversary gift idea so get them while they're unique and in stock!
Order before Dec 10th.  Delivery rolls out Dec 11 – 22nd.
(2) Faux Fur Fashionable Snow Scraper
Au Lit Fine Linens offers a stylish snow scraper for that fashionable gift-lover on your list.  They'll keep your hands toasty while cleaning off your window.  They come in a variety of different colours and can also make that perfect hostess gift or present for your girl friend.
Click here for more information and for Au Lit Fine Linens Holiday Gift Guide (they've got some adorable PJs too).
Vaughan Mills Shopping Center makes it a mission to raise funds for Sick Kids Hospital, in Toronto.  This year the hospital is hoping to give itself an overhaul so fundraising is in over-drive.
Shoppers can pick up a "Love Lock" from a booth near Santa's Tiny Town (near entrance 4 at the mall) for $15 or 2 locks for $25.  Simply write a message on the lock (think Paris) and affix it to the wall in the mall.  You'll get a keepsake necklace and a key to give to the recipient of the thoughtful gift.  These thoughtful gifts can commemorate an occasion, mark a memory or simply lock in your love for someone.  They're a perfect stocking stuffer, teacher's gift, party favour and more!
Last year, the initiative raised over $150,000 for SickKids. In addition, Santa photo proceeds at Vaughan Mills go towards SickKids Hospital as well.
(4) Adult Board Games
We all know how popular Cards Against Humanity became — it was an epidemic.  So why not load a stocking with some fun, new adult games?  We narrowed the list down to Joking Hazard, Jenga and Hearing Things to help get your started.  Sometimes bringing back a classic game (like Jenga) is a perfect way to bring everyone together around the Christmas tree.
(5) Vodka Sampler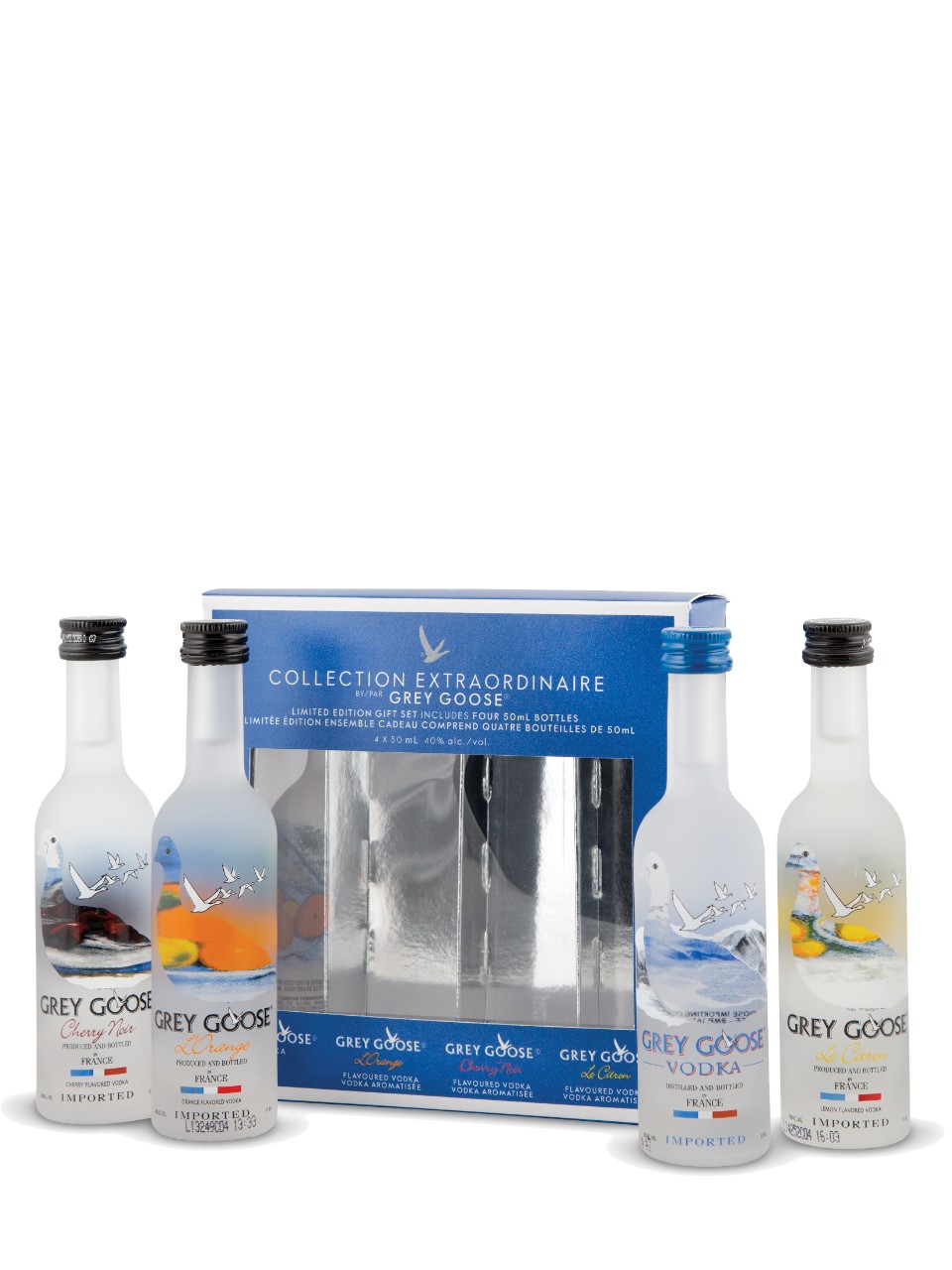 Grey Goose offers a mini sampler pack which is a perfect stocking stuffer idea.  We recommend putting the whole thing (with four yummy flavours) into that cocktail-lovers sock OR splitting it up and giving one small bottle in each stocking.  They're available at LCBO.
(6) Cake Beauty Holiday Collection
Cake Beauty is a fabulous line of Vegan & Cruelty Free lotions and hair products.  They smell like delectable sweets and are packaged in playful, holiday boxes.  We recommend giving the entire Holiday Gift set to the lotion lover (or beauty fanatic) in your your family OR you can always open up the package and put a different scented lotion or hair product in everyone's sock.  So many options!  And right now, they've got a great sale on so it's the perfect time to order.
Our list is just a small compilation of some of our favourite things.  We're also big fans of buying flavoured salts, cooking oils, wool socks, new undies, beard kits (and more) for our family.  We're big into the holiday stocking so if you're in need of any other help, just contact us!
Or, if you have any other fabulous adult stocking stuffer ideas that we missed, send us a note and we will try to help spread the word to other parents.
Happy Holidays!
xx