We're relatively new to home ownership (we moved into an actual house a year ago; prior to that we lived in either a condo or townhome) so the idea of decorating for every big occasions is new to us as well.

As soon as summer wraps, the latest and greatest Halloween decorations invade the stores and we've been following the trends.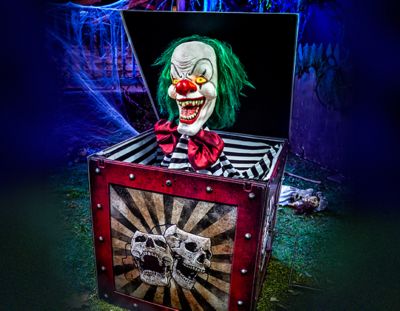 There are two main camps: (1) family-friendly outdoor decor and (2) items that are not for the faint of heart.  We love them both but with a four-year-old and a two-year-old we're focusing more on the friendlier items.
The porch light covers are one of the easiest ways to decorate your home.  There's an elastic band across the back of the plastic design and when you turn your light on, it illuminates a festive character or theme.  It's an inexpensive, fun way to change the exterior of your house and let trick-o-treaters know that you're home.
The jumping spider is another great item and it's apparently one of the best-sellers at Spirit Halloween.  We couldn't even get our hands on one (we're waiting for the next shipment).  Essentially, when a passer-by triggers the spider, its eyes light up red and it hops up and out from it's quiet place, startling those who walk by.  We also love the gigantic furry spiders that can be bent and morphed to fit into your gardens, bushes or front walk-ways.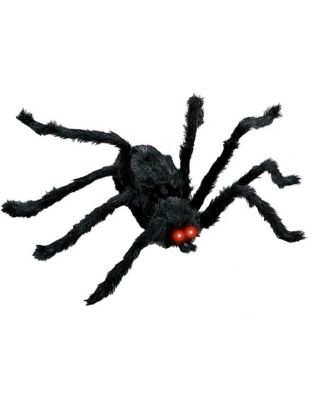 The scary clown chainsaw is another hit and the clown trend never seems to get old.  There's an entire section in Halloween stores dedicated to the creepy crown.  They've got figurines, interactive, life-size options and then everything you'd need to put together a top-notch costume.
Safety is a big concern on Halloween (especially fire, traffic and costume safety) so we were quite happy to see so many flameless candle options.  We love lighting and think that it's one of the easiest ways to transform a room or home, so adding candles or glowing lights is one of our favourite ways to decorate.
At Spirit Halloween we found a lot of great fireplace mantle options (like a stack of glowing books, light-up skulls and more).
Tarot cards and tarot readings also appears to be picking up steam in terms of decor trends.
When the switch is turned on, this crystal balls starts to brew and stew.  It's quite realistic in its depiction of a swirling potion and really amps up the creepy factor to a costume or house party decor.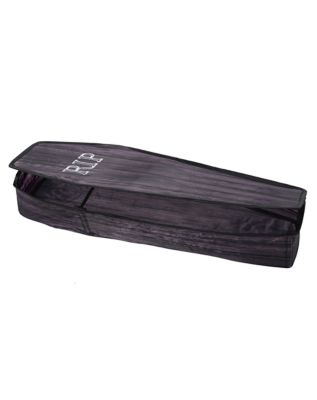 The collapsible coffin is another new addition that we're pretty excited about adding to our home.  In a few quick seconds (much like a lot of baby pop-up shade tents) you can create a coffin to add to your decor.  It's lightweight fabric and easy to put away at the end of the night.
Along with coffins, there's a fun option for  afresh grave site.  It's a new items at Spirit Halloween and in our opinion, it's such a great new product.  Why do we love it?  Simply rake up leaves and yard debris and hide it underneath the brown netting.  Essentially, you're killing two birds with one stone because you're hiding your messy yard, yet also making it look intentional and scary.
Again, all of these items are super simple ways to decorate and transform your home without breaking the piggy bank or spending too much time decorating.
There are obviously other way more interactive, scary and fun items.  And you can choose any creepy theme and totally run with it. But, if you're new to the Halloween decorating scene or don't have the time (or funds) to go all out, these items are fun, quick ways to transform your space.  They're also easy to store which is another bonus.  When everything collapses or folds into itself, you don't have to worry as much about finding somewhere to keep it all.
Happy decorating and Happy Halloween!
Note: these items were also featured on CHCH Morning Live (TV segment).  All items were provided by Spirit Halloween yet selected by us from store.