Looking for a spacious, suite-style hotel that's close to shopping, restaurants & Walt Disney World?
Lake Buena Vista Resort Village and Spa offers an ideal location for just such a wish list. It's known to many vacationers as "Disney's Neighbourhood Hotel" and once you've stayed here you totally understand why.
First of all, the outlets that are located out front and to the side of the resort property feature a ton of popular family brands (Carters Osh Kosh, Levi's, Tommy Hilfiger, The Disney Gift store and many more). This ideal proximity to fabulous shopping deals makes for the perfect break when you need some downtime from the excitement of theme parks and Orlando attractions.
We met a ton of international travelers during our stay (from Brazil and the UK) who chose this resort above others because of the service, rooms and location.
So lets break it down for family travelers:
(1) You can choose from one, two and three bedroom suite options depending on your needs. We chose a two-bedroom, two-bathroom option. Suites include a full kitchen (dishwasher, full size fridge, toaster, stove and more) as well as a large dining table (ours seated eight people!). All of the space means you can easily travel with young children requiring separate, quiet spaces, teens or extended family. We had plenty of room to spread out.
(2) In-suite Laundry. I don't think I need to say more than that here. But, if you're traveling with an infant or toddlers you know how many clothes little ones go through in one day. It's almost impossible to pack enough. Laundry in your hotel room drastically changes at-home stress around packing. We bought some Tide Pods back home and packed them in our checked suitcase so we'd be ready to go (and we could pack less).
(3) Carpeted suites. I know it sounds odd, and at home, a lot of people opt for hardwood, but when you're out all day in the glorious heat and then come back to your air-conditioned hotel room, we were always pleasantly surprised at our warm, cozy toes.
When we posted this on Instagram @FamTravelGuide a lot of you agreed. So we decided to mention this as a big plus. Our kids loved it!
(4) Cleanliness. When you travel to warmer climates, rooms can sometimes smell a bit musty. But as soon as we opened the door to our suite, our five year old said, mmmm it smells like a bath in here (meaning the cleaning products I use at home in the bathroom). The suite was spotless and we had our own full-size vacuum in our room which was another big bonus.
(5) Family-friendly amenities are another great attraction here. When you're traveling with little kids, it can be difficult to find hotels that cater to their needs. We'd give this property a 3/5 for families with small children in terms of what's offered on-site.
This property is stroller-friendly and relatively close to the theme parks, which is ideal for everyone. There is a zero-entry pool, which is great for wee ones as well as a pirate ship feature with a water slide and cannons that is a great attraction for older kids/adults. There's an on-site arcade too (a tad small and dingy, but it's an option)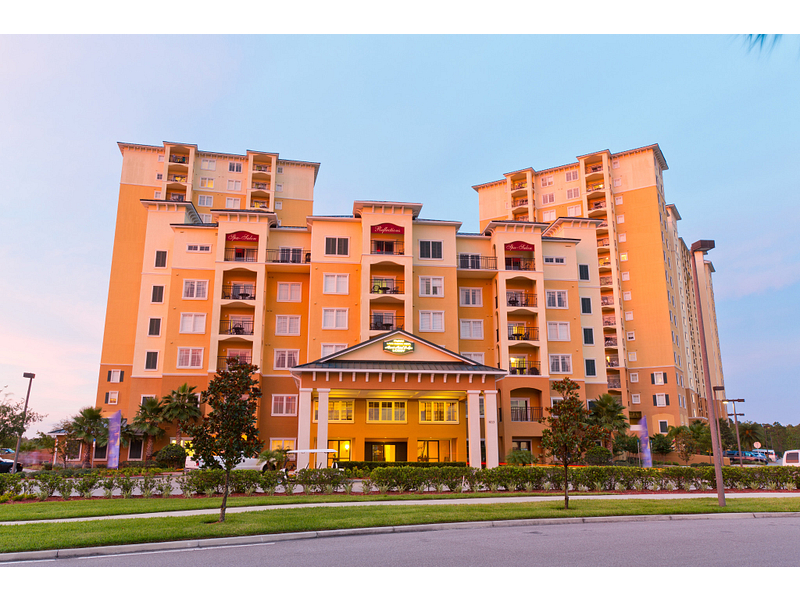 There are nearby outlet stores (the neighbouring property) and restaurants so if you're family loves to shop and eat-out, this is great option. It's a good place for families visiting Orlando because of the size and location of the resort. And the spa is a nice feature for adults to relax and unwind (we alternated appointments so that one of us was with the children and the other was being pampered.
For more on this hotel:
Twitter: @LBVResort
Instagram: @lbvorlandoresort
Facebook: @LBVResort
Hashtag: #VisitOrlando