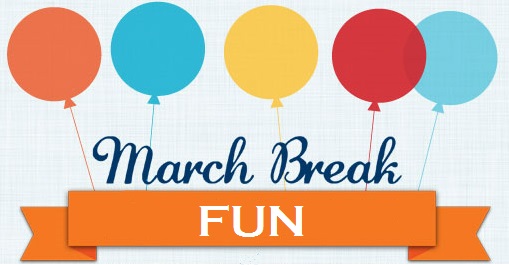 Avoid March Break price-hikes and airline travel madness with kid-pleasing day trips in your own cities and surrounding areas.
Planning fun day-trips and activities can help beat March Break boredom yet still keep your family on budget.  There are a lot of indoor and outdoor events and activities taking place that are designed for kids of all ages.
(1) TIFF Kids International Festival
Enjoy International cinema with your kids, and other families, at the TIFF Kids festival in downtown Toronto.  You can use the search toggle on their website to find movies based on your kids ages.  Immerse your kids in a movie experience that they won't find elsewhere and make a day of it all by exploring Toronto before/after your movie time.
We're taking our three boys to their first (the first film ever for our two and four year olds) movie on Tuesday morning of March Break.
We love the convenient kids' appropriate movie times and the fact that other families, with film buffs-in-the-making, will be there too.  It's a great experience for all…and while you're there you can check out the Digi Play Space!
"Use your creativity and curiosity to dance, jump, click, touch, and draw! Experience the creative potential of machine learning, motion capture, and coding, and see what you can discover in the process. Join us for a mixed reality adventure where the lines between the virtual and real disappear" – DigiPlay Space
(2) Cineplex Family Movies
Across Canada, Cineplex theatres offer a special price for March Break family movies: $2.99 per person!  They've also got movie times starting as early as 11:00am.  You can check local listings, which may vary by province etc.
A portion of the proceeds goes towards Free The Children.
(3) Day Passes to Ski Resorts
When families think of ski hills and resorts, a lot of parents balk at over night hotel prices during March Break.  But, what some people don't know is that most resorts and hills offer day passes.  If you're within driving distance (two to three hours from popular ski resorts) you can take your family up for the day and avoid hotel prices altogether.
We recommend leaving first thing in the morning and planning for a later bed time.  That way, your family can feel as though you're going on a winter vacation (snow tubing, hot tubbing, skiing etc) without tacking on the price of a hotel stay.
(4) Local Library Activties
Most local libraries develop a special March Break itinerary in place of their standard, weekly, schedule.  Find everything from acting classes and karate to crafts and story time for kids of all ages.  Some activities require previous registration but most are drop-in.  You can find schedules and pricing information on your local library website.
Or, you can get really wild and check out a library in a neighboring city.  Some larger centres have different, more stimulating activities for your kids and a change of scenery is sometimes enough to feel like you've gone on a mini vacation.
(5) Dundurn National Historic Site, Hamilton, Ontario
Historic sites and museums aren't always at the top of parents lists on March Break because of the dreaded "B" word: BORING!  A lot of pre-teens and school-aged kids balk at the idea of going to often quieter sites.  But, this March break, at Dundurn Castle, for example, kids are invited to design and wear their own costumes and explore the late 1800s structure.  There will be plenty of photo opps, soldiers and more.  You can learn more here: Dundurn March Break.