Savings? Sun? Family Fun? YES, Please!
With blue skies, temperatures around 24 degrees Celsius and special pre-summer deals, Orlando, FL is an ideal March Break destination.
There's always something new, different and exciting whenever you visit this city. It's electrifying and entertaining no matter your age or life stage. Our three boys (aged 14, 5 and 3) can't seem to get enough of this city.
Where can you find savings?
The most common questions we answer on our social media relate to budget and accommodations. When you're traveling with young kids, that's typically the first and foremost thought. So, how can you save when planning a vacation to Orlando, Florida???
Visit their tourist hot spot: the Visit Orlando information center and website! Here, you can take advantage of special Deals Made for Canadians at VisitOrlando.ca, including discounts to the major theme parks. We recommend checking out this website before booking your hotel or purchasing attraction tickets. The savings can help you maximize your family vacation.
For flights, low cost air services, like Swoop, now offer direct service from Hamilton, Ontario to Orlando International Airport, for example. Since it's such a popular destination, we find there are great flight times and options from a variety of popular cities (WestJet and Air Transat cater well to young families). We tend to book early morning flights with young kids because they seem to have a bit more patience first thing in the day. 
WHERE TO STAY?!?!
Here are some Great Family-Focused Accommodation options:
We've been visiting Orlando multiple times a year since our children were born. We're always looking for the best family accommodations that offer the most for little ones and at a great price. Here are a few of our top choices, for various budgets, in our searches so far:
This condominium resort, tucked behind popular outlet shops, offers two-, three- and four-bedroom suites — just 2 miles from Walt Disney World Resort.
It's a great place for families who want an entertaining getaway that's close enough to the theme parks that you can easily come and go throughout the day if you need to (for naps for example). There's a free shuttle to and from Walt Disney World or an uber ride is quite reasonable.
Did we mention the outlet shopping?
Having popular stores (like Tommy Hilfiger, Nike, Levi's, Gap, Crocs, Disney, Navy, Under Armour etc) right behind your hotel building is such a fun experience. When we had an hour here or there to spare, we'd just pop outside and stroll through the shops.
If you're looking for family-fun, the resort offers a spectacular, zero-entry pool featuring a Pirate Shipwreck complete with a water slide, Jacuzzi-style hot tubs, tumbling waterfalls, poolside loungers and hammocks.
There's an on-property games room (with billiards tables and arcade games) as well as a popular Irish pub and convenience store. The pub offers room service to the resort suites which is another bonus too and there's a pizza shop on site as well.
Sheraton Vistana Resort
First and foremost: SAVINGS! Save up to 20% off on this resort by booking through VisitOrlando.ca
Second of all, the location of this incredible resort is superb. The expansive Sheraton Vistana Resort property is nestled so close to highway 4 that theme park access is quick and convenient. It also makes for an easy trip to the world renowned I-Drive or to downtown Orlando. We loved having this resort as our home base while visiting the theme parks because we felt like we were in the epicenter of all of our favorite places.
In terms of family-friendly amenities, there are seven outdoor pools, tennis courts, recreation centers, tandem/quad bicycle rentals, on-site mini-golf, playgrounds and more. We could easily have stayed here for our entire 10 day trip without feeling restless.
The rooms (or villas) feature fully-equipped kitchens or kitchenettes, living and dining areas, and a washer/dryer. It honestly feels like a home away from home.
There's also an on-site supermarket with a deli, frozen section, basics (like bread, meat, cheese, yogurt), frozen desserts and more. We cooked at least one meal a day in our suite, which is great for the body and budget!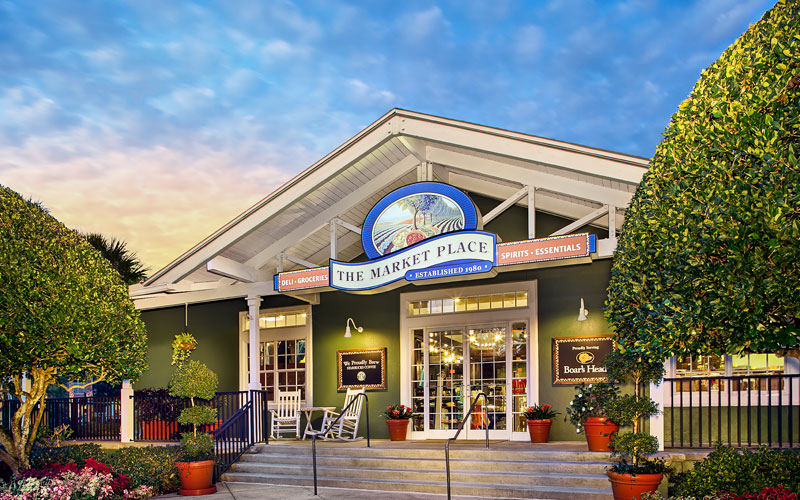 Our family took full-advantage of the bike rentals too. As soon as we'd settled into our suite, my mom and I sneaked off to rental a quad-bicycle. We then surprised everyone else while they played on the playground structure and then explored the large property all together, on the bike. It was such a fun way to see the sites, get some exercise and thrill the kids.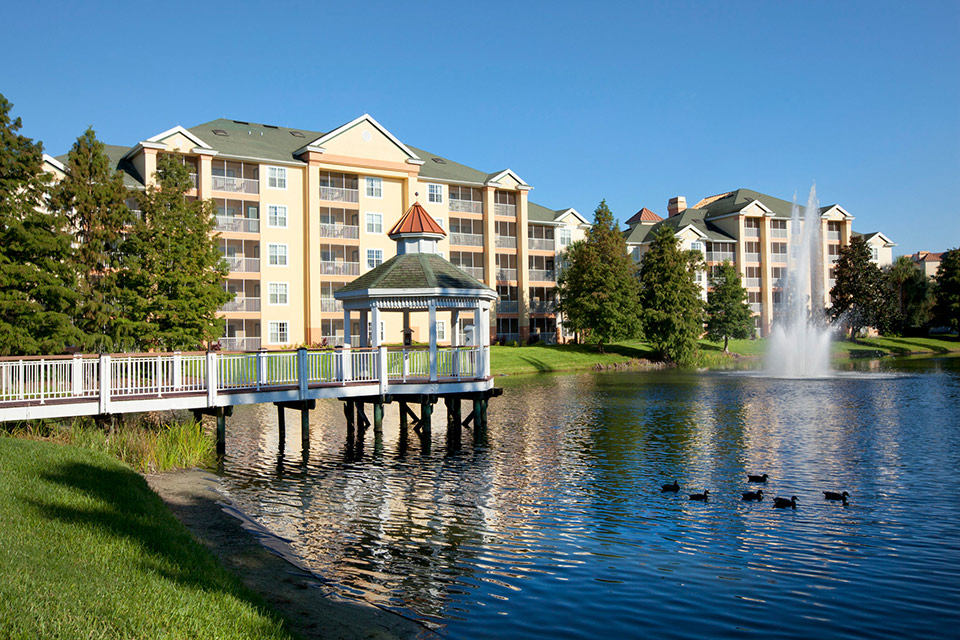 OTHER FAVORITE ORLANDO HOTELS:
JW Marriott Orlando, Grande Lakes
Lake Buena Vista Resort and Spa
Sheraton Vistana Villages
So, new at Walt Disney World!?
If you're booking a trip to Orlando, keep in mind that Walt Disney World is actually comprised of FOUR theme parks, two water parks and Disney Springs. So when you purchase park passes, we definitely recommend more than a single-day ticket (they only sell single-day passes at the main gate and not in advance FYI). If you purchase a multi-day pass, not only does the cost go down, per day, but, you can also relax and enjoy the parks instead of trying to adhere to a tight schedule to fit it all in. There's so much to see and do that you could never get it all done in one visit to the park.
To be honest, every time we visit Walt Disney World, it feels like a totally different experience. One trip we focused on Animal Kingdom and another time we submersed ourselves in Magic Kingdom. This time around, we couldn't go to Orlando without checking out the NEWly opened Toy Story Land in Disney Hollywood Studios.
This was one of our boy's favorite places because the entire area is so vibrant, interactive and full of energy. Disney did a great job transporting guests to Infinity and Beyond!
Jack went on his first roller-coaster here: The Slinky Dog Dash. It's easily the most adorable and well-designed ride for the target audience. Our son is quite small (37 lbs) and he was totally fine on this ride.
You'll see marching soldiers parade through the park; they interact with families and totally transport you into Andy's backyard. You basically feel like a life-sized toy in this whole second of Hollywood Studios.
Over in The Magic Kingdom, they've got a variety of new limited-time programs too. Everyone is talking about the new 'Mickey & Minnie's Surprise Celebration' (they're wearing new outfits, dancing to a brand new song and offering new food and merchandise); you can also party with Pixar pals; and catch more Broadway-style musical performances than ever before!
TIP: download the "My Disney Experience" app so you can keep track of your ride Fast Passes and plan your day. This helps you maximize your time in the park, check ride times, see exclusive deals and so much more.
What's new at Universal Orlando
We've never been shy about our love for UNIVERSAL STUDIOS FLORIDA. Our son Jack has been talking about Seuss Landing so his first trip there in 2015.
Universal Orlando offers cutting-edge attractions based on pop culture icons, Hollywood blockbuster films and hit television shows. You can pretty much test your trivia knowledge as your make your way through the two parks (Islands of Adventure and Hollywood Studios).
In Islands of Adventure, you'll find the world famous 'Wizarding World of Harry Potter' (you seriously feel like you're transported right into the books…everything here looks and feels so real), Jurassic Park, The Amazing Adventures of Spiderman in Marvel SuperHero Island and much more.
NEW is the Fast & Furious – Supercharged experience.
Basically, guests experience a high-octane adventure into the world of underground racing, right alongside props and stars from the Fast & Furious films.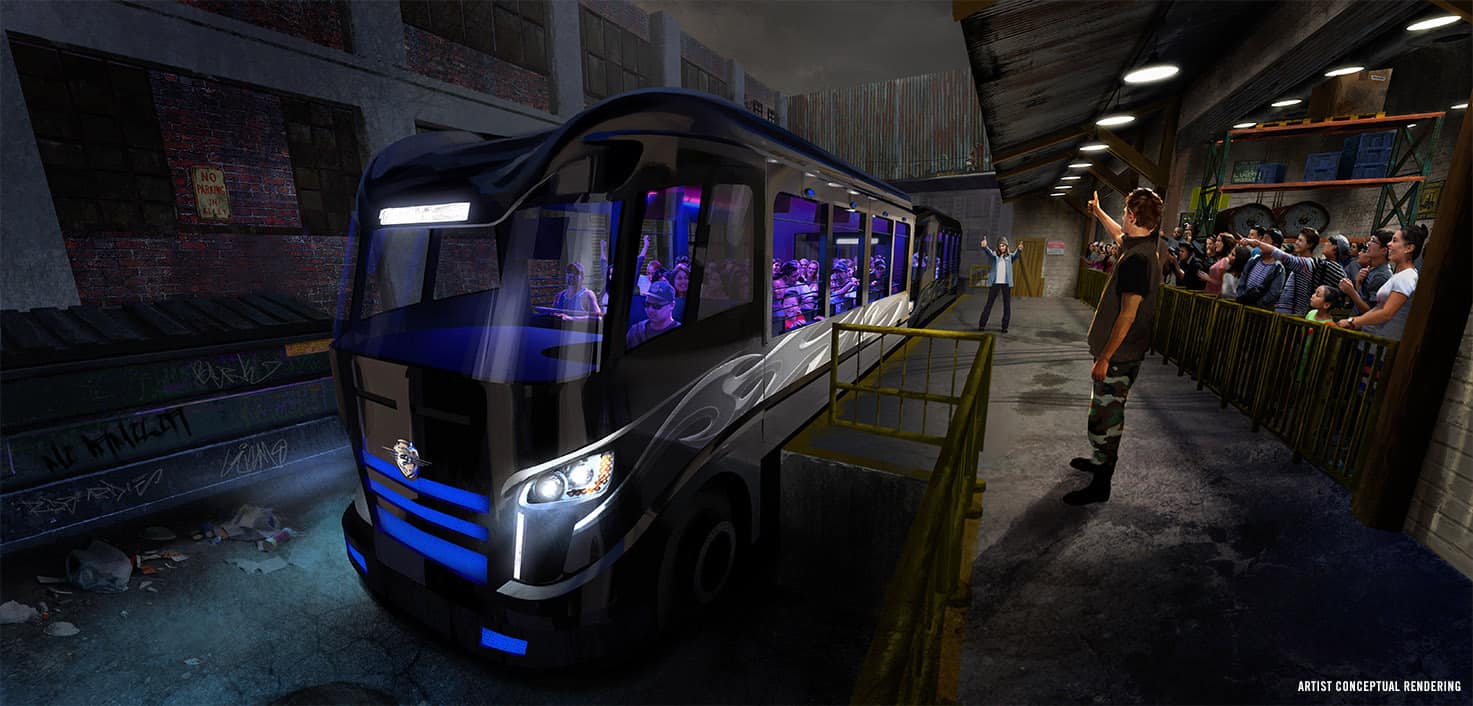 TIP: When you're in the ride queue for this exciting new attraction, you can access the Fast & Furious – Supercharged™ Network through the Official Universal Orlando Resort™ App. Meet the team, get car stats and test your Fast & Furious knowledge. Race up the leaderboard and compete in trivia matches.
LEGOLAND Florida
In our opinion, if you've got young, creative minds on your hands, there's nothing quite like the interactivity at LEGOLAND, Florida. We've been twice and each time we visit the park the boys learn more and more. You can watch your kids get lost in a world of creation, exploration and architecture.
NEW AT LEGOLAND: LEGOLAND Florida Resort's The Great LEGO Race! Now, this is a fun ride! We went on this virtual reality ride and had such a blast. It's actually the first VR roller coaster designed for kids, yet it's so much fun for everyone (even grandpa was into it when we went on it). You wear a gigantic VR headset and watch minifigures, a rocket powered surfboard, an espresso-fueled scooter and much more come to life. You'll take dips and turns like a real coaster yet see something totally different in front of you.
Rick opted to ride without the VR mask and still had a great time because the coaster is awesome!
Coming end of March: The Lego Movie World with three new attractions based on the 2014 film: Unikitty's Disco Drop, Battle of Bricksburg and The Lego Movie Masters of Flight, a unique 180-degree rotating theater attraction with additional 4D elements such as smells and water sprays.
SeaWorld Orlando
COMING SOON TO SEA WORLD! Sesame Street!!!
Scheduled to open in spring 2019, Sesame Street at SeaWorld Orlando. Elmo and his furry friends, along with parade dancers, will invite guests to join the street party in SeaWorld Orlando's first-ever parade. The immersive area will feature exciting rides, wet and dry play areas and interactive experiences designed to entertain the entire family.
LIFE OUTSIDE THE THEME PARKS
One of our favorite things to discuss is life outside the theme parks! There's so much more to see and do in Orlando than most families realize. While we adore the theme parks and will likely visit them annually until our kids are adults, there are also a lot of wonderful options in terms of smaller outings.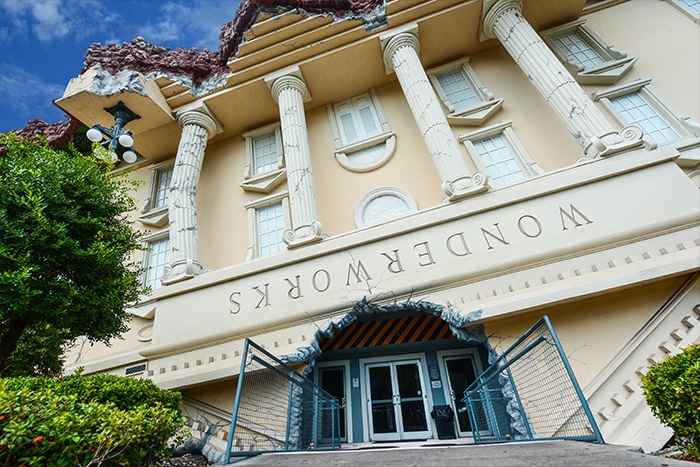 WonderWorks, Orlando's only upside-down attraction, features more than 100 hands-on interactive exhibits. Guests can experience a three-story ropes challenge course, design and ride their own roller coaster or watch a magic/comedy dinner show.
Our family spent at least 15 minutes in the Bubble Lab, which greeted us soon after we made it upstairs. You can make larger than life-sized bubbles that totally engulf you.
We also loved the earthquake simulator and the virtual reality ride. There are floors upon floors of exhibits for everyone in the family. Wonderworks is definitely a must-do.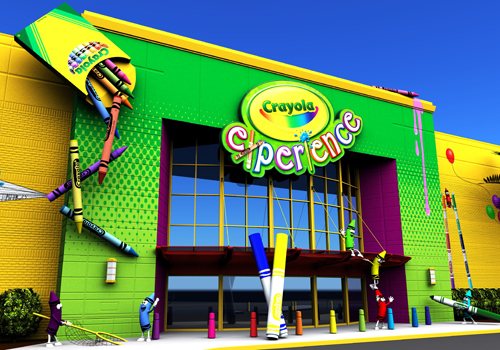 Crayola Experience is another Campanelli family favorite. With 26 hands-on attractions, from naming crayons, creating colouring book pages and sculpting to digital design, rock mining and melted crayon art, there's fun for the entire family. In fact, you'll see people of all ages (young and old) totally lost in their creative element.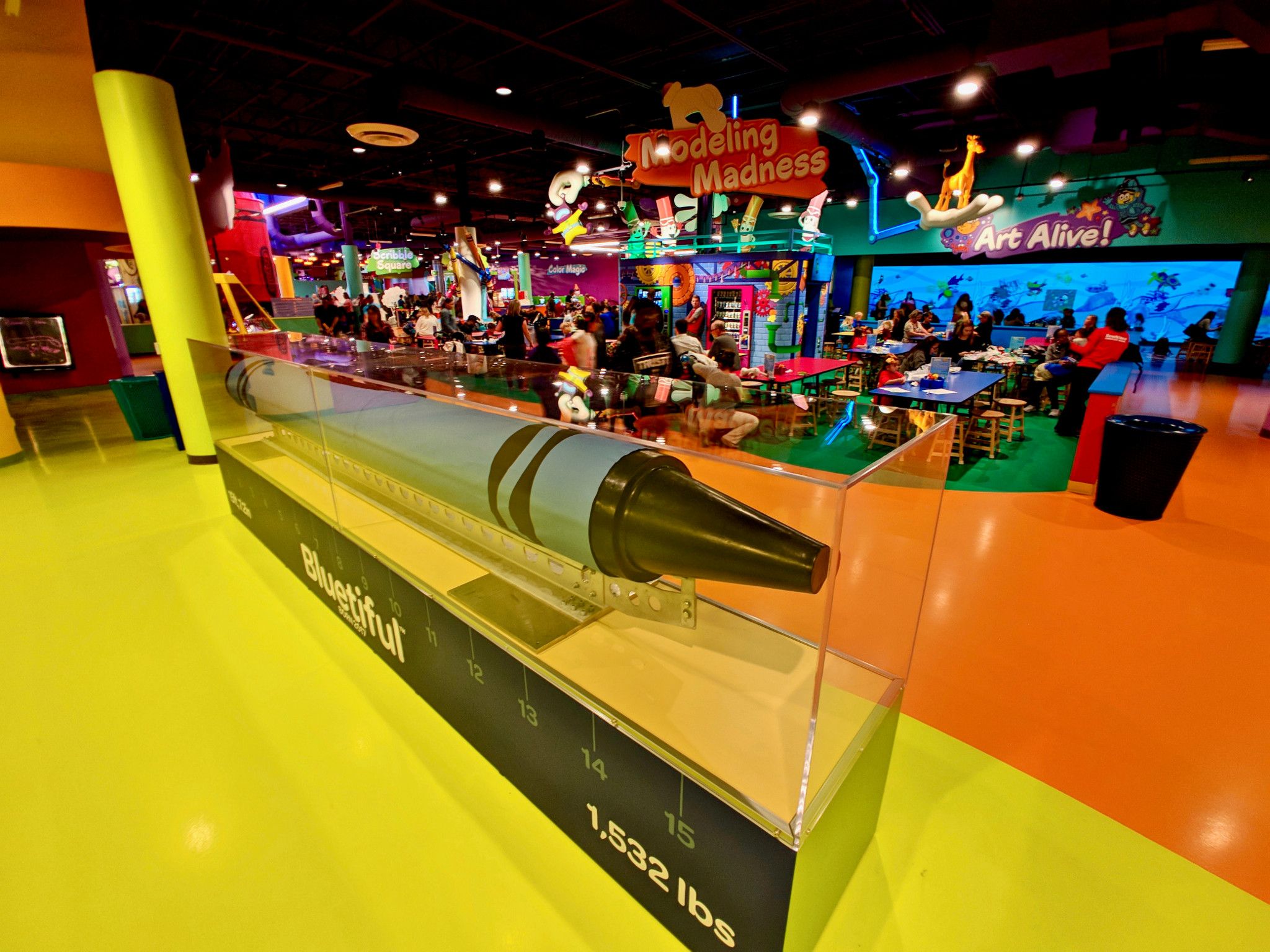 The Crayola Experience is located inside the Florida Mall so if there's any interest in shopping, you'll exit the attraction right into the actual shopping center.
The Orlando Science Center is another great attraction for families (or anyone really). It's listed as one of America's top hands-on science centers, offering hundreds of exhibits, planetarium shows, an observatory with the state's largest refractor telescope and the world's largest cinedome.
For young children, there's a specific 'KidsTown' area which is an interactive space on level two that allows children to partake in immersive experiences (such as imaginative roleplaying, climbing, creative play and teamwork). This is a great introduction to the world of science, laws of gravity and other fun cause/effect experiments.
We always recommend having some of these "other" activities in your back pocket as options for activity diversity or to help when there's inclement weather.
No matter how many times we visit Orlando, FL we always try something and somewhere new.
If you've done something that you think should be on this list, please contact us so we can check out your suggestion.
For more on Visit Orlando, catch my segments on CHCH Morning Live.